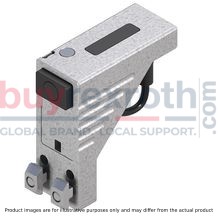 SH 2/S-H SWITCH BRACKET
Material #: 3842537280
Able to bear loads of up to 100 kg Switch cover to protect sensor and cable Simple, fast mounting and replacement of the sensor without adjustment through flush installation with defined sensing range Suitable for mounting on an ST 2/… section with a profile width of 45 mm or an ST 2/…-H section with a profile width of 50 mm Changing the sensor is quick and easy by loosening a separate clamping screw. The switch bracket stays in position The integrated cable routing and cable clamping allows secure and protected cable routing
Buy Now
Status: This product is temporarily out of stock.
We have you covered! Place your order today! More are expected on March 27, 2023
Able to bear loads of up to 100 kg Switch cover to protect sensor and cable Simple, fast mounting and replacement of the sensor without adjustment through flush installation with defined sensing range Suitable for mounting on an ST 2/… section with a profile width of 45 mm or an ST 2/…-H section with a profile width of 50 mm Changing the sensor is quick and easy by loosening a separate clamping screw. The switch bracket stays in position The integrated cable routing and cable clamping allows secure and protected cable routing
The switch bracket can be used to fix an M12x1 sensor in place for lateral sensing of the workpiece pallet position.
| | | | |
| --- | --- | --- | --- |
| No. | | | 3842537280 |
| Material entry | | | Aluminum, die-cast |
SH 2/S-H Switch Bracket

Required accessories
Sensor M12, SN = 8 mm, L ≥ 44 mm
can be installed flush or not flush

CAD data
Condition of Delivery
Scope of delivery