BUYREXROTH REPAIR
INFORMATION
Repair Service by BuyRexroth – Often More Cost-Effective than Replacement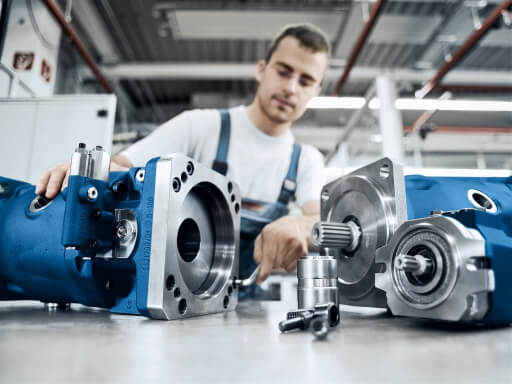 Defective components do not always need to be replaced. Often times, the wearing parts or faulty components can be repaired. When this is the case, we are your "go-to" solution for factory-authorized repair of Bosch Rexroth products.
Inside our modern and up-to-date workshops we check malfunctioning components to uncover the root cause of a problem. When we determine a component is repairable, we do so with OEM parts and according to the manufacturer's specifications. All workshops are ISO 9001 certified, offering reliable and consistent high-quality workmanship. We also offer generous warranties on repaired products.
When an emergency or express repairs is required, trained engineers quickly and economically review and restore the components to minimize your downtime. BuyRexroth offers a 12-month warranty on replacement parts, giving you peace of mind, and cost justification.
If a damaged component cannot be repaired, the repair facility in your local area will automatically provide you with an offer for a new part.
We have the largest product inventory in the world for industrial hydraulics, electric drives and controls, linear motion and assembly technology, tightening technology, and welding technology.
Why BuyRexroth for Repairs?
Our OEM-trained technicians use original OEM parts to repair your parts and bring them "Back-to-New." We do a complete component evalution to identify the root cause of the failure. All repaired parts are thorough tested before they're returned to you, and they will meet all new product standards. We offer a new product warranty with every repair, and same day repair options are available.

Click Here To Begin Your Repair
Standard Repairs
Your equipment is inspected, evaluated, and cleaned, and any needed repairs are done with genuine Rexroth parts. We offer consistent quality standards as well as warranties on repaired products.
Reman and Reman Plus
The clock is ticking for Rexroth's mature product range. With technologies constantly evolving and Rexroth continuously striving to supply more advanced and efficient products, it is inevitable that our mature product ranges will fall out of serviceability. We have a solution!
REMAN.
Rexroth's drive and control REMAN service provides a complete solution to renew your aging components.
Exchange of all wearing parts such as:
| Bearings | Fans | Flanges |
| --- | --- | --- |
| Transducers | Brakes | Power semiconductors |
| Sensors | Relays | Battery packs |
| Encoders | Contactors | Switches |
| What REMAN covers | REMAN PLUS adds |
| --- | --- |
| Cleaning the components | Supply of repair material |
| Replacing the wearing parts | Warranty of up to 5 years |
| Use of original spare parts | 24 Month Warranty |
| Function operation test | |
| Re-lacquering of motors | |
| 24 Month Warranty | |
Reduce down times and cut costs
Because a product is mature does not mean that we no longer support our customers, rather it is our aim to help extend product life with our REMAN services.
Up to 60 months warranty
No re-engineering costs
Reduce manufacturing costs
Predictable costs
Reduction of stock
With REMAN PLUS we can also:
Extend machine lifetime
Guarantee spare parts
Repair Quotes
All units are evaluated by our technicians before the repair begins. Once the evaluation is completed, a detailed quote will be issued. The quote for this unit will include the published evaluation fee. During the evaluation, if the unit is free of defects/no faults found, it will be returned to you.
Rush Service
If things have to happen fast, we repair your components with top priority. Upon receiving the unit and the correct paperwork, the repair will be completed within the allotted full business day(s) chosen pending part availability.
When the repair process is complete, the unit will be shipped the next business day during normal business hours. Shipping time will vary based upon the next available pickup.
Note: This rush option excludes Saturdays, Sundays & Holidays. Units received unmarked or without proper documentation will be placed on hold and the repair process will not begin until the correct paperwork is received.