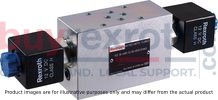 SANDWICH PLATES
HSZ 06
Material #: R900772031
Model : HSZ 06 A218-3X/05-S315M00
Size 6 Component series 1X, 3X and 4X Maximum operating pressure 315 bar
Buy Now
Status: This product is temporarily out of stock.
We have you covered! Place your order today! More are expected on April 19, 2024
Size 6 Component series 1X, 3X and 4X Maximum operating pressure 315 bar
Type

HSZ

Size

6

Operating pressure max.

bar

315

Function version

Distance plate; blocking function; pressure function; pressure and blocking function; flow control function; rapid traverse and creep speed function; miscellaneous
For applications outside these parameters, please consult us!