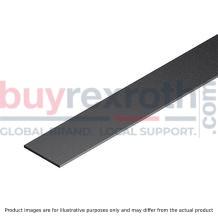 GT 2 BELT
Material #: 3842539479
Buy Now
In Stock: 13
Available for immediate shipment
Need more? We have you covered! Place your order today and we will ship when more are expected on May 16, 2023
The belt used as a conveyor medium transports the workpiece pallets into the transfer system. The belts are pretensioned during installation and bonded to form a continuous belt. A belt mounting tool kit is used for jointing, tensioning and bonding.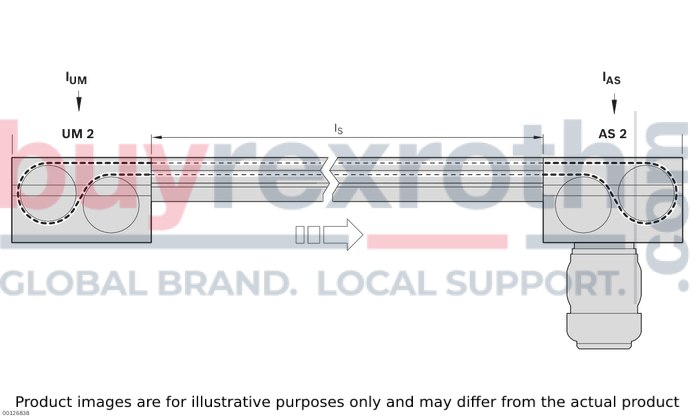 The required belt length is determined using the following formula.
Note: A pre-tensioning factor F is required for the belt, see the "Pre-tensioning factor F for belts" overview.
lB = ((2 x lS + lAS + lUM) x F) + 60
lB = length of belt
lS = length of section
lAS Length of the conveyor medium at the drive module
lUM Length of the conveyor medium at the return unit
F = pretensioning factor
Pretensioning factor F for belt
where BS 2 and lS ≤ 4000 mm, F = 0.98
where BS 2 and lS > 4000 mm, F = 0.975
where AS 2/B-250, F = 0.965
Length of the conveyor medium for belt
lUM = 660 mm
lAS = 660 mm
Belt expansion
where lS ≤ 4000 mm = 2 %
where lS > 4000 mm = 2.5 %
where AS 2/B-250 = 3.5 %
GT 2 Belt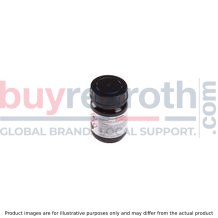 Used for bonding belts For use in connection with the belt mounting tool kit
CAD data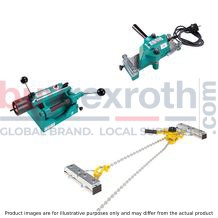 Skiving device for reducing belts at connection points Heat press to glue the belt ends thermally
CAD data