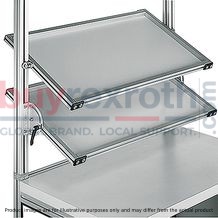 MATERIAL SHELVES
Material #: 3842538461
Can be attached at any desired incline, height or offset Material shelf Economic with frame profile 22.5x30 Material shelf Basic with frame profile 22.5x45 with docking aids for easy loading and removal of materials Plates
– PP: light gray
– SB: ESD-conductive; black; recommended accessory: ESD mat insert
– aluminum: for heavy loads (material shelf Basic) Attachment fixed with brackets (included) or swiveling with swivel fastening Customized assembly possible from individual components
Buy Now
Status: This product is temporarily out of stock.
We have you covered! Place your order today! More are expected on February 15, 2023
Can be attached at any desired incline, height or offset Material shelf Economic with frame profile 22.5x30 Material shelf Basic with frame profile 22.5x45 with docking aids for easy loading and removal of materials Plates
– PP: light gray
– SB: ESD-conductive; black; recommended accessory: ESD mat insert
– aluminum: for heavy loads (material shelf Basic) Attachment fixed with brackets (included) or swiveling with swivel fastening Customized assembly possible from individual components
Material Shelf Basic

Material Shelf Economic

Material Shelf Basic

1)
SLA Gravity vector
AS Permissible position for the line of action of gravity vector SLA
BE = B - 45 - 80 (P= 40L)
BE = B - 45 - 90 (P= 45L)
BE = B - 45 - 120 (P= 60L)

Material Shelf Economic

Material shelf Basic, plate PP, SB, aluminum


Swivel fastening for shelves, etc. which need to be positioned at an angle of ± 90°.
CAD data

ESD mat insert for protecting ESD-sensitive components To create a safe, conductive connection, e.g. to ESD material shelves, we recommend using adhesive copper tape Conduction resistance Rgp/Rpp = 104 ... 109 Ω (DIN EN 61340-5-1)
CAD data

For labeling material shelves Suitable for labeling all profiles with 8 mm or 10 mm slot
CAD data