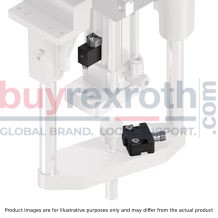 RA POSITION SENSING SET
Material #: 3842536975
Buy Now
Status: This product is temporarily out of stock.
We have you covered! Place your order today! More are expected on April 17, 2023
For use with a turret stop (e.g. Somatec), the HP 2/L can be ordered with longer guide rails as a modification. An accompanying sensor is used instead of the cylinder switch to sense the upper positions on the turret stop (position sensor set RA).
Circuit diagram M12x1


Scope of delivery
1x SN2 series cylinder switch (cube)
1x clamping holder for cylinder switch
1x sensor M12x1 with rated sensing range of SN = 8 mm, overall length 50 mm
1x switch bracket for mounting on the base plate