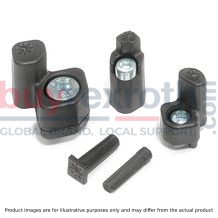 MOBILE DATA TAG MDT…L (125 KHZ)
Material #: 3842535443
Buy Now
Status: This product is temporarily out of stock.
We have you covered! Place your order today! More are expected on March 28, 2023
The mobile data tag MDT.../28‑L is located directly on the workpiece pallet and stores the identification allocated by the user during initialization. The compact MDT has a non-volatile EEPROM (battery back-up not required) with a memory capacity of 5 bytes (payload data).
MDT.../28‑L can be read from all sides (front, lift/right side, top and bottom) an unlimited number of times. In addition to various installation positions on the workpiece pallet, seamless integration into the workpiece pallet is also possible.
ID 15 data tags from manufacturing date FD986 can be initialized using the diagnostic package DPS/L for use with ID 200. The simultaneous operation of ID 15 and ID 200 is not possible.

| | |
| --- | --- |
| 1) | Mobile data tags MDT...L for 125 kHz |
| 2) | Mobile data tags MDT...H for 13.56 MHz |
| 3) | Flat antennas A...F for 125 kHz or 13.56 MHz |
| 4) | Round antennas A...R for 125 kHz or 13.56 MHz |
| 5) | Communication modules C-... for PROFIBUS or Ethernet |
| 6) | Control system |
Mobile data tag 11/28-L
Mobile data tag 21/28-L
Mobile data tag 22/28-L
Mobile data tag 13/28-L
Mobile data tag 23/28-L

Frequency

125 kHz

Memory capacity

5 byte

Memory type

EEPROM

Number of write cycles

≥ 100,000

Number of read cycles

unlimited

Transmission distance – static

15 mm

Transmission distance – dynamic

12 mm

Ambient temperature during operation

–40 ... +85 °C

Housing material

PA 66

Protection type

IP68
Mobile data tag 11/28-L

Drill pattern for 11/28-L on TS 1 workpiece pallet WT 1/K, WT 1/S

Drill pattern for 11/28-L on TS 1 workpiece pallet WT 1/P

Mobile data tag 21/28-L

Drill pattern for 21/28-L on TS 2plus workpiece pallet

Drill pattern for 21/28-L on TS 2plus workpiece pallet

Drill pattern for 21/28-L on TS 4plus workpiece pallet

Mobile data tag 22/28-L

Drill pattern for 22/28-L on TS 2plus workpiece pallet

Mobile data tag 13/28-L

Mobile data tag 23/28-L