HÄGGLUNDS
DRIVE SYSTEMS AND SOLUTIONS
Hägglunds - Power for productivity
Hägglunds solutions - a 360 commitment from first installation and onwards. It is not just the drives, for us it's all about keeping you productive and finding the solutions that you need. It's a partnership like no other. Drive solutions that provide uncompromising power, straight to the rotating shaft. Backed by world-class service and connected with our in-depth knowledge, they drive industrial, marine and mobile applications to new levels of efficiency.
Powerful Simplicity
A Hägglunds direct drive system comprises a hydraulic motor and a flexibly placed drive unit, overseen by a control and monitoring system. This simple configuration withstands the challenges of virtually any application or environment.
Mounted directly on the driven shaft, the compact motor supplies reliable power. The force and direction of the motor's rotation is determined by the fast-acting hydraulic pumps in the drive unit, while the control and monitoring system provides information and advanced functionality.
Supporting these components is a wide range of valves and accessories, creating even greater flexibility in installation and operation.
The drive you receive is built with quality, delivered with confidence and supported with dedication. What you experience is full peace of mind supplied not just by our drive technology, but also by the people behind it.
Hägglunds Drive Systems features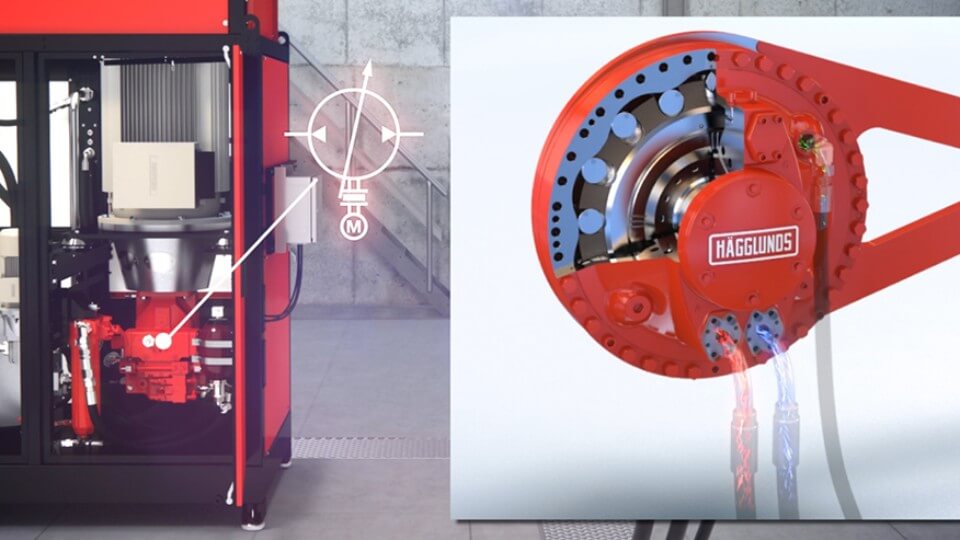 Torque Control
Direct drives with low speed and high torque give maximum controllability. You can work at full torque from standstill, without time restrictions. Hägglunds hydraulic direct drives can operate continuously throughout its power range up to its rated torque, from zero to full speed. It can maintain full shaft torque continuously at zero or low speed, and since the electric motor is unaffected, no time restriction applies.
SEE HOW TORQUE CONTROL WORKS WITH HÄGGLUNDS
Variable Speed
With the accurate and instant control of speed that you get with our drive solutions, you can fully maximize the efficiency and versatility of your process. It is the variable flow of oil from the pump that determines the speed and direction of the drive. As a result, speed and directional control are not compromised by the limitations of the electric motor. Due to the hydraulic motor's low moment of inertia, the response is almost instantaneous.
SEE HOW HÄGGLUNDS DRIVES HANDLE VARIABLE SPEED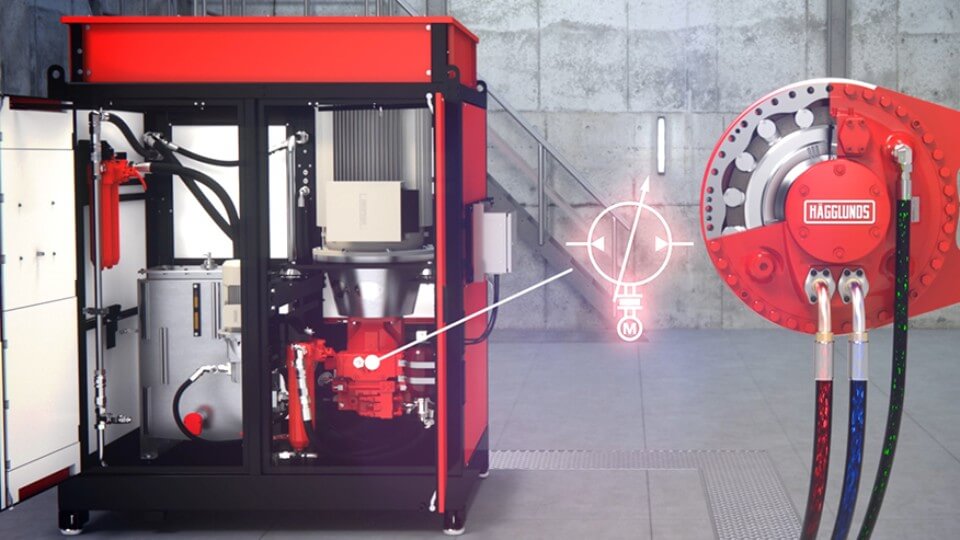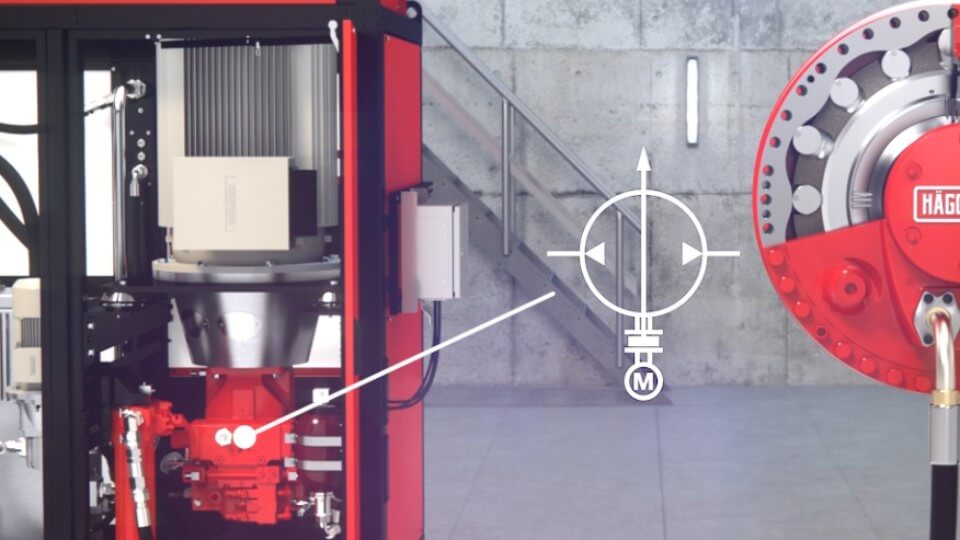 Start-Stop-Reverse
The low moment of intertia gives unbeatably smooth driving with high reliability. No matter how many times you have to start, stop or reverse, the drive system simply keeps on going. Hydraulic systems are able to switch automatically from driving to braking mode, and the direction of rotation can be changed quickly by changing the direction of the oil flow. A hydraulic direct drive reacts especially quickly, due to its very low moment of inertia.
SEE THE FAST REACTION WHEN CHANGING DIRECTIONS
Shock Load Resistance
Our direct drive solutions offer built-in protection against shock loads, which safeguards your machine's functionality and maximizes your uptime. The direct drive offers a solution without mechanical play and with a low moment of intertia, and therefore it can easily withstand vibrations, external shockloads and changing load directions.
SEE THE BUILT IN PROTECTION AGAINST SHOCK LOAD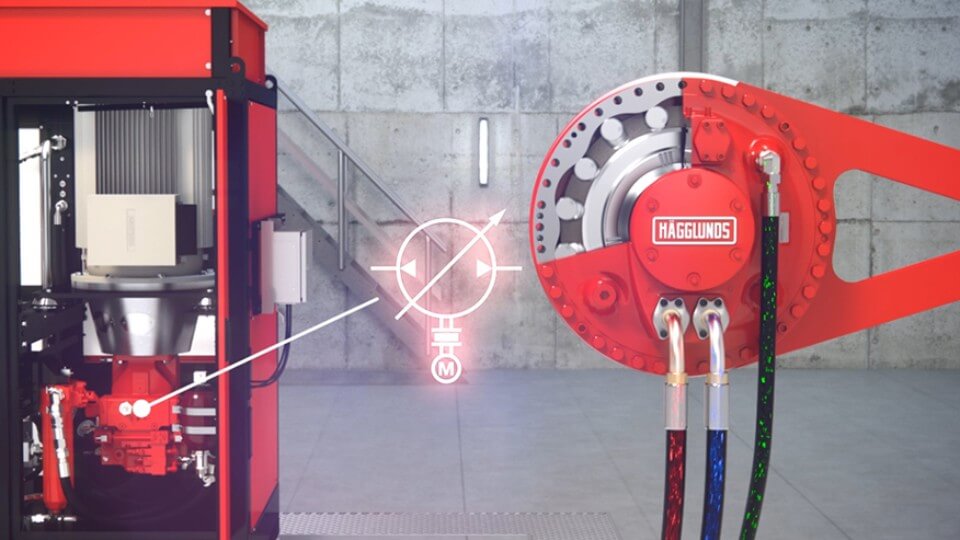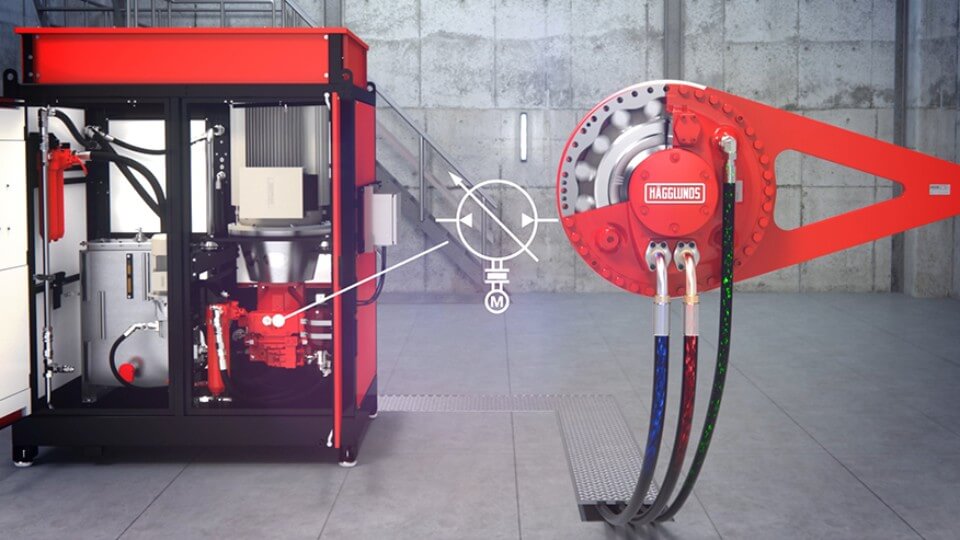 Overload Protection
Featuring built-in overload protection, our drives safeguard your machine and ensure maximum uptime. Among the hydraulic direct drive's key operating advantages is its adjustable pressure-limiting function, which prevents maximum torque from being exceeded in overload conditions.
SEE MORE ABOUT OVERLOAD PROTECTION