Repair service by BuyRexroth – often more cost-effective than the replacement of components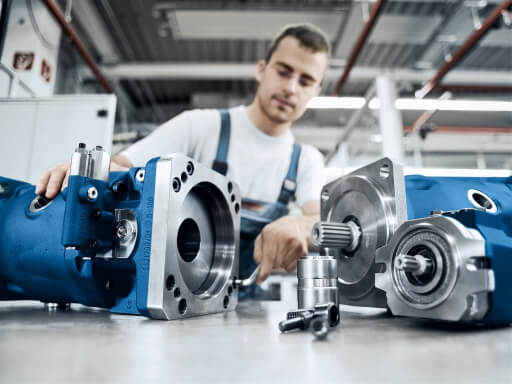 There is not always the need to replace defective components. Specifically, in high-quality modules, only wearing parts or faulty components have to be repaired or replaced.
At modern workshops, BuyRexroth checks and repairs malfunctioning components with original spare parts and according to the manufacturer's specifications which means additional security for plant operators. All workshops are ISO 9001 certified and offer consistent quality standards as well as warranties on repaired products.
In emergency and express repairs, trained engineers quickly and economically review and restore the components for a minimization of downtimes in no time. BuyRexroth offers a 12 months warranty on replaced parts which results in increased cost-effectiveness and a major financial benefit for your business.
If a damaged component cannot be fixed anymore, the repair service in your local area automatically provides the user with an offer for a new spare part.
We have the largest and best product range worldwide for industrial hydraulics, electric drives and controls, linear motion and assembly technology, tightening technology, and welding technology.
BuyRexroth Makes Repairs as Easy as 1 - 2 - 3
1. Select a manufacturer
2. Select a category
3. Provide basic information to help us get your repair started

After checkout, you will be emailed a packing slip and instructions on where to send your repair. One of our certified repair technicians will fully inspect your product and provide you with repair recommendations to quickly return your product back to 'like new' condition.
Choose your product's manufacturer
Pending Manufacturer Selection
Pending Category Selection