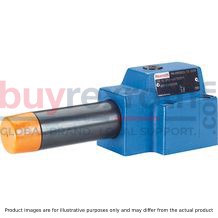 PRESSURE REDUCING VALVE, DIRECT OPERATED
DR 10 DP
Material #: R900772067
Model : DR10DP3-4X/210YV
For subplate mounting Porting pattern according to DIN 24340 Form D and ISO 5781-06-07-0-00 4 optional adjustment types:• Rotary knob• Threaded pin with hexagon and protective cap• Lockable rotary knob with scale• Rotary knob with scale 4 pressure ratings With pressure gauge connection Check valve, optional
Buy Now
Status: This product is temporarily out of stock.
We have you covered! Place your order today! More are expected on May 1, 2024
For subplate mounting Porting pattern according to DIN 24340 Form D and ISO 5781-06-07-0-00 4 optional adjustment types:• Rotary knob• Threaded pin with hexagon and protective cap• Lockable rotary knob with scale• Rotary knob with scale 4 pressure ratings With pressure gauge connection Check valve, optional
The valve type DR 10 DP is a direct operated pressure reducing valve in 3-way version, i. e. with pressure limitation of the secondary circuit.
It is used to limit a system pressure.
The secondary pressure is set via the adjustment type (1).
The valve is open in initial position. Hydraulic fluid can flow from channel B to channel A without restrictions. The pressure in channel A is simultaneously applied via the control line (4) at the piston area opposite the compression spring (3). If the pressure in channel A exceeds the value set at the compression spring (3), the control spool (2) moves to control position and keeps the set pressure in channel A at a constant level.
Signal and pilot oil are supplied internally via the control line (4) from channel A.
If the pressure in channel A increases further due to an external force effect at the actuator, it pushes the control spool (2) even further against the compression spring (3).
In this way, channel A is connected to channel T(Y) via the control edge (5) at the control spool (2). So much hydraulic fluid is discharged into the tank that the pressure can only increase slightly.
The leakage oil discharge from the spring chamber (6) is always effected externally via channel T(Y).
For the free flow back from channel A to channel B, a check valve (7) can optionally be installed.
A pressure gauge connection (8) allows for the control of the secondary pressure.
Type DR 10 DP1-4X/.Y…

| | | | | | | | | | |
| --- | --- | --- | --- | --- | --- | --- | --- | --- | --- |
| 01 | 02 | | 03 | | 04 | 05 | 06 | 07 | 08 |
| DR 10 DP | | – | 4X | / | | Y | | | * |
01

Pressure reducing valve, direct operated, size 10

DR 10 DP

Adjustment type

02

Rotary knob

1

Grub screw with hexagon and protective cap

2

Lockable rotary knob with scale

31)

Rotary knob with scale

7

03

Component series 40 … 49 (40 … 49: unchanged installation and mounting dimensions)

4X

04

Maximum secondary pressure 25 bar

25

Maximum secondary pressure 75 bar

75

Maximum secondary pressure 150 bar

150

Maximum secondary pressure 210 bar

210

05

Internal pilot oil supply, external leakage oil discharge

Y

06

With check valve

no code

Without check valve

M

Seal material

07

NBR seals

no code

FKM seals (other seals on request) Attention! Observe compatibility of seals with the hydraulic fluid used!

V

08

Further details in the plain text

*
1) H-key with material no. R900008158 is included in the scope of delivery.
Preferred types and standard units are contained in the EPS (standard price list).
general
Size

10

Installation position

any

Ambient temperature range

NBR seals

°C

-30 … +50

FKM seals

°C

-20 … +50

Weight

kg

3
hydraulic
Size

10

Maximum operating pressure

Port B

bar

315

Maximum secondary pressure

Port A

bar

25
75
150
210

Maximum counter pressure

Port T (Y)

bar

160

Maximum flow

l/min

80

Hydraulic fluid

see table

Hydraulic fluid temperature range

NBR seals

°C

-30 … +80

FKM seal

°C

-20 … +80

Viscosity range

mm²/s

10 … 800

Maximum admissible degree of contamination of the hydraulic fluid 1)

Class 20/18/15 according to ISO 4406 (c)
| | |
| --- | --- |
| 1) | The cleanliness classes specified for the components must be adhered to in hydraulic systems. Effective filtration prevents faults and simultaneously increases the life cycle of the components. For the selection of the filters, see www.boschrexroth.com/filter. |
Hydraulic fluid

Classification

Suitable sealing materials

Standards

Mineral oils and related hydrocarbons

HL, HLP, HLPD

NBR, FKM

DIN 51524

Environmentally compatible

Insoluble in water

HETG

NBR, FKM

ISO 15380

HEES

FKM

Soluble in water

HEPG

FKM

ISO 15380

Containing water

Water-free

HFDU, HFDR

FKM

ISO 12922

Containing water

HFC (Fuchs Hydrotherm 46M, Petrofer Ultra Safe 620)

NBR

ISO 12922

Important information on hydraulic fluids!

For further information and data on the use of other hydraulic fluids, please refer to data sheet 90220 or contact us! There may be limitations regarding the technical valve data (temperature, pressure range, life cycle, maintenance intervals, etc.)!

Flame-resistant – containing water:

Maximum operating pressure 210 bar Maximum hydraulic fluid temperature 60 °C Expected life cycle as compared to HLP hydraulic oil 30 % to 100 %
For applications outside these parameters, please consult us!
(measured with HLP46, ϑOil = 40 ±5 °C)
pA-qV characteristic curves

Δp-qV characteristic curves

Notice!
The curve development is maintained if the pressure is set lower according to the pressure rating.
The characteristic curves apply to the pressure at the valve output p = 0 bar across the entire flow range.
Version "M"
Without check valve

Version "no code"
With check valve

Dimensions in mm

| | |
| --- | --- |
| 1 | Name plate |
| 2 | Adjustment type "1" |
| 3 | Adjustment type "2" |
| 4 | Adjustment type "3" |
| 5 | Adjustment type "7" |
| 6 | Space required to remove the key |
| 7 | Valve mounting bores |
| 8 | Lock nut SW24 |
| 9 | Hexagon SW10 |
| 10 | Identical seal rings for ports A, B, P, T (Y) |
| 11 | Pressure gauge connection G1/4; 12 mm deep; internal hexagon SW6 |
| 12 | Locking pin |
| 13 | Porting pattern according to DIN 24340 form D and ISO 5781-06-07-0-00 |
Subplates (separate order)
G 460/01 (G3/8)
G 461/01 (G1/2)
Valve mounting screws (separate order)
4 metric hexagon socket head cap screws
ISO 4762 - M10 x 60 - 10.9-flZn-240h-L
with friction coefficient μtotal = 0.09 to 0.14,
tightening torque MA = 60 Nm ± 10%,
material no. R912000116